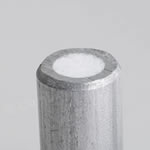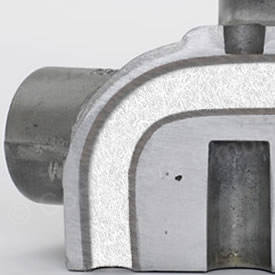 Cores for high pressure die casting...
...and other casting processes
Combicore cores consist of a shaped metal shell that is filled with a special material. This enables foundries to create media-carrying channels and other cavities in cast parts, efficiently, quickly, reliably and cost-effectively.
Combicore cores are extremely stable and can also be used in high pressure die casting with over 1000 bar.
After the casting process, the filling is removed. The metal shell remains as a channel in the component.
In this way, highly efficient cooling channels are created, which ensure optimal temperature control of the near-net-shape cast part. Lubrication channels are also typical applications in the automotive sector.
With Combicore, casting cores can be used in high pressure die casting for the first time. Trust in our decades of experience.
Combicore cores: Innovative Benefits
As an innovation, Combicore cores and components from our customers have received multiple awards. Combicore properties offer decisive success criteria:
Realization of complex channel structures
"in one pour"
Dimensionally stable at over 1200 bar
Ideal for high pressure die casting (HPDC),
can be used in all casting processes
Great freedom of design
Optimal temperature control of components
(Cooling + heating)
Leak-free,
no drilling and no plugs required
Reduction of material, efficient lightweight construction
Sustainable conservation of resources, also in later operation
Easy removal of the filling after the casting process
Inexpensive
Made in Germany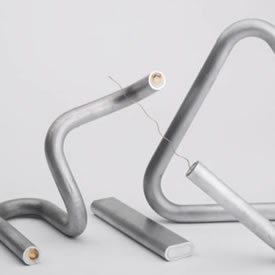 Metal Forming:
Tube, wire, sheet metal
As a metalworker, we have several 2D and 3D CNC bending machines with which we can also create complex tube geometries. We process materials such as steel, stainless steel and non-ferrous metals.
A wide variety of shapes can be created with tube end forming technology, so that tubes can be connected to the system without leakages. Expensive turned parts or complex welding and soldering work can thus be saved.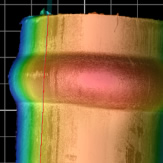 We also carry out the following work for you:
Sawing
Deburring
Pressing
Drilling
Turning
Milling
Annealing / heat treatment
Welding
Soldering
Which component can we shape for you?
Assemblies:
Strong connections
We assemble bent tubes and profiles into ready-to-assemble end products. Several Combicore cores can also be connected to core packages by welding, soldering or other suitable joining processes.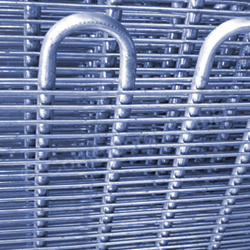 Attached wire bridges, pins and other attachments can facilitate handling in the foundry.
Inquire about our options.
We are happy to help.
Application examples: Combicore cores and media-carrying channels
Know-how and Services
Consulting and Engineering
We offer our customers customized solutions and are at your side already in the construction phase.
In dialogue we determine application-specific requirements for our Combicore casting cores. Our engineers define the individual optimal core parameters for components, according to cost-effecient production.
If required, we can also support you with casting-related issues and core removal.
Other metal shaped parts and assemblies meet the desired requirements. If you are looking for quality, you are right with us.
Added value: Made in Germany
The quality of our processes is controlled by a management system according to ISO 9001:2015.
Combicore is your excellent supplier for formed metal articles. Customer satisfaction is our top priority. In accordance with customer specifications, we undertake to provide exceptional quality products with the lowest possible environmental and safety risks.

Quality and the environment
Combicore cores meet today's requirements of modern foundry technology and satisfy modern, ecological and economic conditions.
We manufacture samples, prototypes, small and large series for customers in the division ...
Automotive,
Electronics,
Furniture,
White goods,
...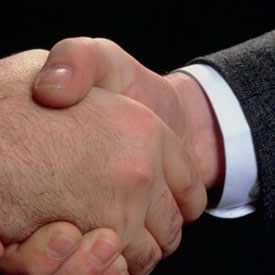 Address:
Combicore GmbH
Am Hühnerbusch 10
D-67688 Rodenbach
Phone: +49 (0)6301 / 38295-70
info [ @ ] combicore.com
Follow us on...

Contact form